COVID -19 Standards of Care and Enhanced Cleaning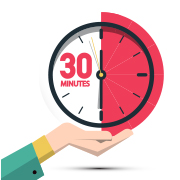 At Optimum Wellness Centers, we're taking steps to follow CDC Guidelines to protect our staff and patients from the COVID-19 virus.
In addition, we want you to know that pursuant to Governor DeSantis's order and The Department of Homeland Security, physical therapy is an essential component of health care during the COVID-19 pandemic. As a result, we remain open.
We have instituted enhanced standards of care to lower the risk of exposure to the virus as much as possible. The following enhanced cleaning and screening procedures are now being followed:
Patient and Staff Screening: Before each visit, patients will be checked for symptoms; staff will be checked daily. Anyone with symptoms will be immediately referred to their physician or the appropriate medical facility.
Enhanced Hygiene Practices: Staff and patients will be asked to wash their hands frequently, and all equipment, handles, and surfaces will be wiped down with sanitizer every 30 minutes.
Social Distancing: We ask all patients and staff to limit the number of people accompanying them, and to practice social distancing (6 feet) at all times during their session.
Use of Telehealth (available for most patients): For those patients at highest risk (60 years of age and older), or anyone else who prefers to stay at home rather than come to the clinic, we offer a telehealth visit option. Of course, if that option is not desirable and you would feel more comfortable rescheduling your visits for a future date, please feel free to do so. When scheduling a telehealth visit, we will email you a secure connection link after your booking is confirmed.